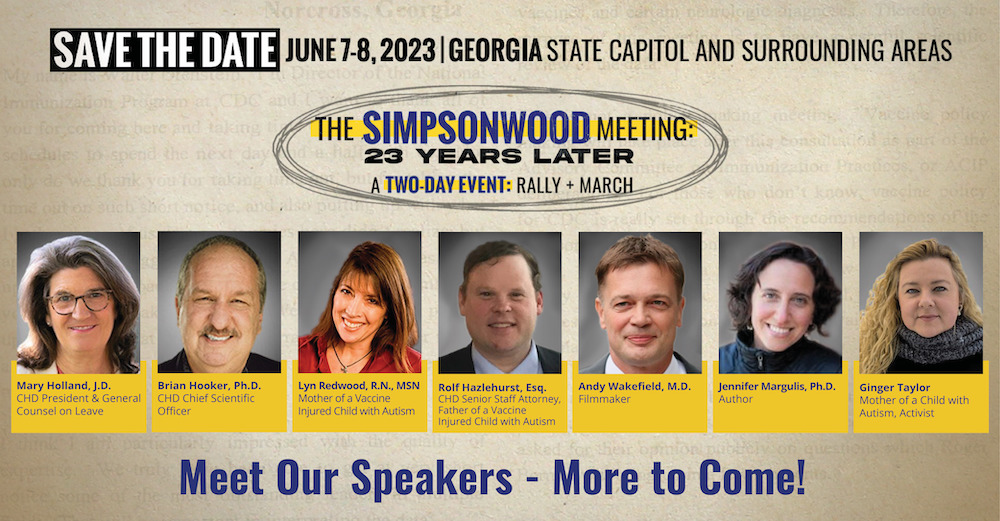 Dear friend,
Join us June 7-8 in the Greater Atlanta, Georgia area for a rally and march as Children's Health Defense sponsors a recognition of The Simpsonwood Meeting: 23 Years Later.
The Simpsonwood Meeting and the Cover-up of the Mercury/Autism Connection
On June 7-8, 2000, top public health officials, government scientists, vaccine manufacturers and specialists met behind closed doors at the isolated Simpsonwood Retreat and Conference Center in Norcross, Georgia. At this secret meeting, it was revealed that there was a scientific link between the mercury-based preservative thimerosal in vaccines and childhood neurological disorders, including autism.
According to a CDC epidemiologist, Thomas Verstraeten, who had analyzed the agency's massive database containing the medical records of 100,000 children, thimerosal appeared to be responsible for a dramatic increase in autism and a host of other neurological disorders among children.
These findings frightened many of the Simpsonwood attendees.
The meeting's explosive transcript was leaked to Robert F. Kennedy, Jr., who wrote a shocking exposé for Rolling Stone magazine (2005) about what transpired at Simpsonwood. His article was later censored. The events at Simpsonwood became a catalyst for Kennedy's dedication and leadership in the medical freedom movement.
Now, 23 years later, it's time to educate the masses about the unthinkable fraud that occurred during that fateful gathering at Simpsonwood, and how it connects to the MMR controversy and the COVID-19 crisis.
We invite you to participate in this historic event with the CHD team and local medical freedom partners from Georgia: Next Steps, Georgia Coalition for Vaccine Choice and Healthy + Informed Georgia.
Speakers for the main event on June 8 include:
Mary Holland, J.D., CHD President & General Counsel on Leave
Andy Wakefield, M.D., Filmmaker
Brian Hooker, Ph.D., CHD Chief Scientific Officer
Lyn Redwood, R.N., MSN, Mother of a Vaccine-injured Child with Autism
Ginger Taylor, Mother of a Vaccine-injured Child with Autism, Activist
Rolf Hazlehurst, Esq., CHD Senior Staff Attorney, Father of a Vaccine-injured Child with Autism
Jennifer Margulis, Ph.D., Author
Other VIPs are to be announced soon!
Simpsonwood was a watershed moment in the history of the medical freedom movement that can no longer be repressed.
Save the date. Share this email. Check back for further event details.
Hope to see you there!
The Team at Children's Health Defense